Setting the Standard in Flow Measurement
Your Trusted Solution for High Accuracy Flow Measurement
ACCUSONIC® is the industry-leading , high performance flowmeter system used in the water, wastewater, and power generation markets.  ACCUSONIC systems employ the multi-path transit-time principle to measure flowrate in applications ranging from large diameter pipelines and tunnels, to open and closed channels, rivers, and canals. 
ACCUSONIC flowmeters are well known throughout the industry for their high accuracy, long-term reliability, and versatility in the most difficult applications. ACCUSONIC products and services help organizations earn additional revenue, meet strict safety and environmental requirements, and increase plant efficiencies, thus reducing operating costs and improving profitability.
Since 1967, ACCUSONIC has installed thousands of flowmeter systems worldwide, offering a full range of services including installation and startup, system verification, turbine performance testing services, and field training. ACCUSONIC is a brand of ADS LLC. 
ACCUSONIC Flowmeters and Transducers
The ACCUSONIC Model 8510+ provides accurate, reliable flow measurement for applications ranging from full pipes to partially full or surcharged pipes, open channels, streams, and rivers. The 8510+ has the ability to measure up to 10 paths in the same measurement section, assuring superior performance even in the presence of severely distorted flow conditions. Additionally, the 8510+ can measure flow in up to 5 separate pipes and/or channels simultaneously.
The Model 8510+ can be fully integrated into most SCADA or PLC networks via 4-20mA outputs, Modbus (RTU) RS232 or RS485, and TCP/IP. In addition, the complete offering of ACCUSONIC transducers is available for use with the Model 8510+, including designs for hazardous area installations, exposed pipes of all materials, buried or encased pipes, and pipes and channels that cannot be de-watered.
For more information on ACCUSONIC flowmeters and transducers, visit the Literature page or scroll to the data sheets section below.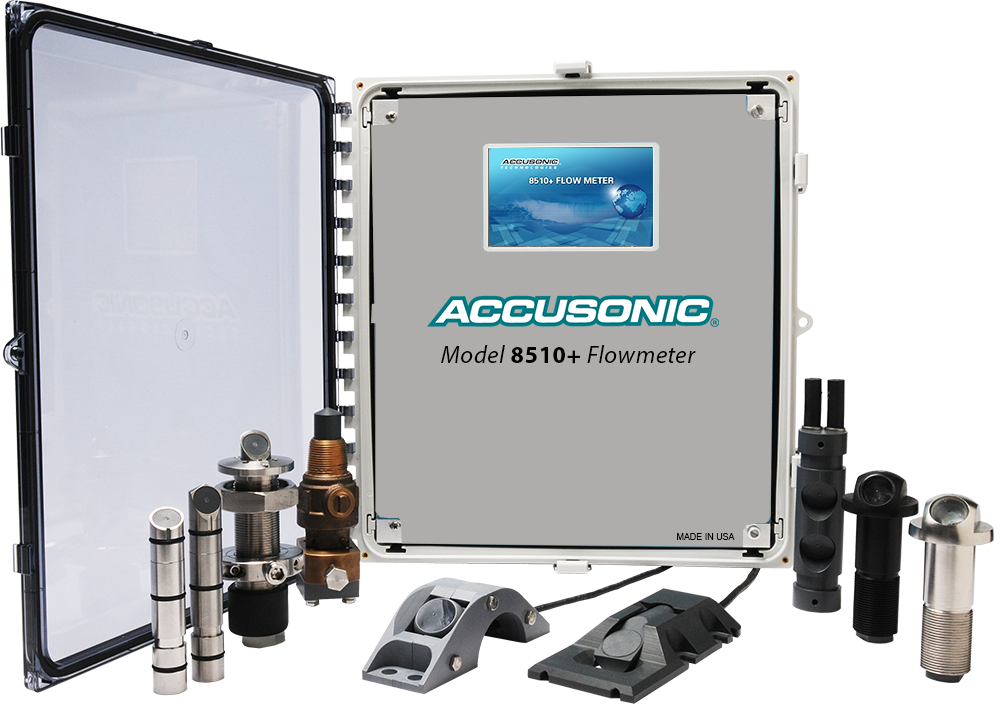 ACCUSONIC Products are Proudly Designed and Manufactured in the U.S.a.
ACCUSONIC Transit-Time Technology
ACCUSONIC flowmeters utilize the multiple chordal path transit-time flow measurement technique which is designed for accurate flow measurement (±0.5% of actual flowrate) in large pipes and open channels. The systems can be configured to measure flow in full pipes and conduits, pipes and conduits ranging from partially full to surcharged, and open channels. Depending upon accuracy requirements, the flowmeters can be set up to operate 1-10 acoustic paths with cross path (cross flow) correction available on flowmeters with 2 or more paths. A single console can be used to handle flow measurements in multiple pipes.
The ACCUSONIC flowmeter is connected via signal cables to multiple pairs of transducers mounted in a pipe or channel at specific elevations. Velocity at each elevation is determined using the transit time method in which an acoustic pulse travels downstream faster than a pulse travels upstream. A pulse of sound traveling diagonally across the flow in a downstream direction will be accelerated with the velocity of the water and, conversely, a pulse traveling diagonally upstream will be decelerated by the water velocity.
ACCUSONIC is the STANDARD in the Industry!