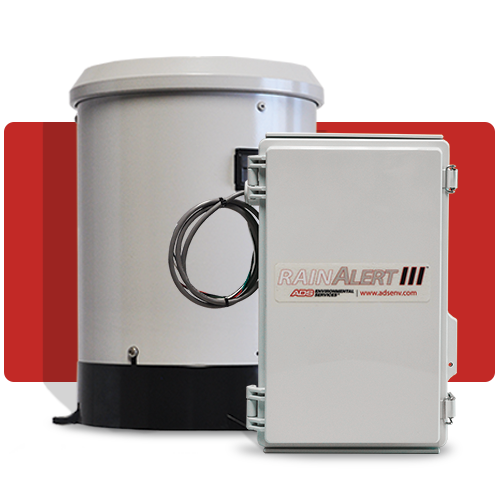 The ADS® RainAlert® III is a cost-effective, wireless rain gauge that alerts operators via text or email messages when rainfall intensity exceeds a critical threshold. Priced for deployment as a stand-alone unit or part of a comprehensive monitoring network, the enclosure is suitable for ground-level, pole-mount or rooftop installation. The RainAlert III connects to an ADS or customer supplied tipping bucket. Rainfall totals are time-stamped and stored at one-minute intervals or greater based on customer-supplied specifications. It is easily configured and managed using ADS's Qstart™ and PRISM™ software and allows instant access for retrieval of logged rain and alarm data.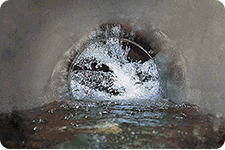 RainAlert III Applications
The ADS RainAlert III is used to collect and alarm on precipitation data for use in many applications, including precipitation analysis, infiltration/Inflow programs, rainfall insight for CSO and SSO monitoring, sewer capacity studies, rehabilitation effectiveness, sewer master plan studies, and early warning and notification based on rain intensity.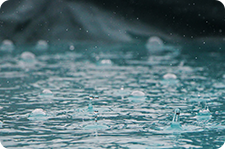 RainAlert III Benefits
The RainAlert III provides rainfall data acquisition, precipitation analysis, and smart alarming to support wastewater capital improvement, operations and maintenance, and regulatory programs.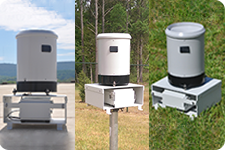 Easy to Install and Configure
Easily configured and managed using ADS Qstart software. The RainAlert III provides 100% compatibility with ADS FlowView PRISM software for accessing and managing all alarm events, alarm history, and stored rain data via the Web. It is designed for ground-level, pole-mount, and rooftop installations.
Literature
Product Manual
Setup Guides
Firmware and Software
Rainfall Monitoring Technical Papers
How to initialize ADS RainAlert III Rainfall Monitor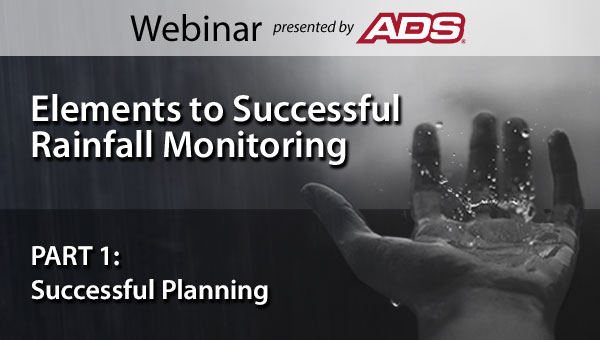 SPEAKER: Kevin Enfinger, P.E.
See how selecting the right equipment in the right quantities for your local rainfall conditions and your specific applications will lead to a successful rainfall monitoring program.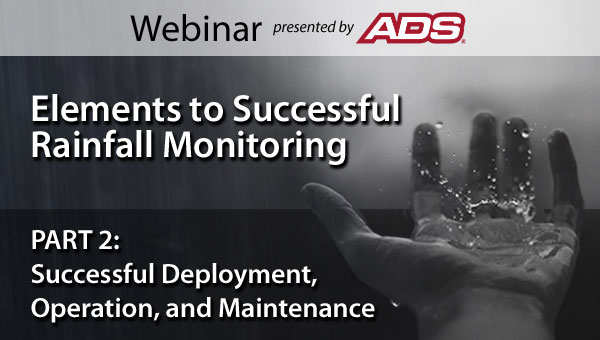 SPEAKER: Kevin Enfinger, P.E.  
See how proper installation and maintenance practices will contribute to a successful rainfall monitoring program.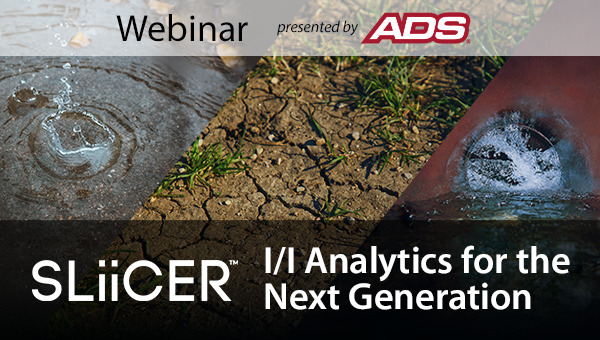 SPEAKER: Kevin Enfinger, P.E.
SLiiCER™ makes it easy to evaluate your entire collection system as a single solution, tracking down I/I to guide rehabilitation programs, eliminate overflows, and validate results.
ADS... Now That's Smart!™