The upcoming release of SLiiCER™ analytics software for managing inflow and infiltration (I/I) will be previewed at WEFTEC in Chicago, IL October 2-4, 2023. The new SLiiCER builds on two decades of industry-leading capabilities by deepening integration and interoperability within our PRISM™ end-to-end, cloud-based collection system management suite.
The new SLiiCER in PRISM™ puts the power and control of Infiltration and Inflow (I/I) studies directly in your hands, providing the industry's most trusted and complete I/I evaluation solution. SLiiCER makes it easy to evaluate your entire collection system as a single, end-to-end, interrelated entity, tracking down I/I to guide rehabilitation programs, eliminate overflows, and validate results. The SLiiCER app, as a valuable addition to the ADS PRISM platform, leverages the power of seamless data integration, trusted analytics, and flexible reporting in a single, unified platform.
This enhanced integration between SLiiCER and PRISM provides greater flexibility for collection system engineers and managers to interactively see and evaluate relationships between various factors that impact I/I.  These include data on rainfall events, understanding wet or dry weather conditions, defining basin properties, and more.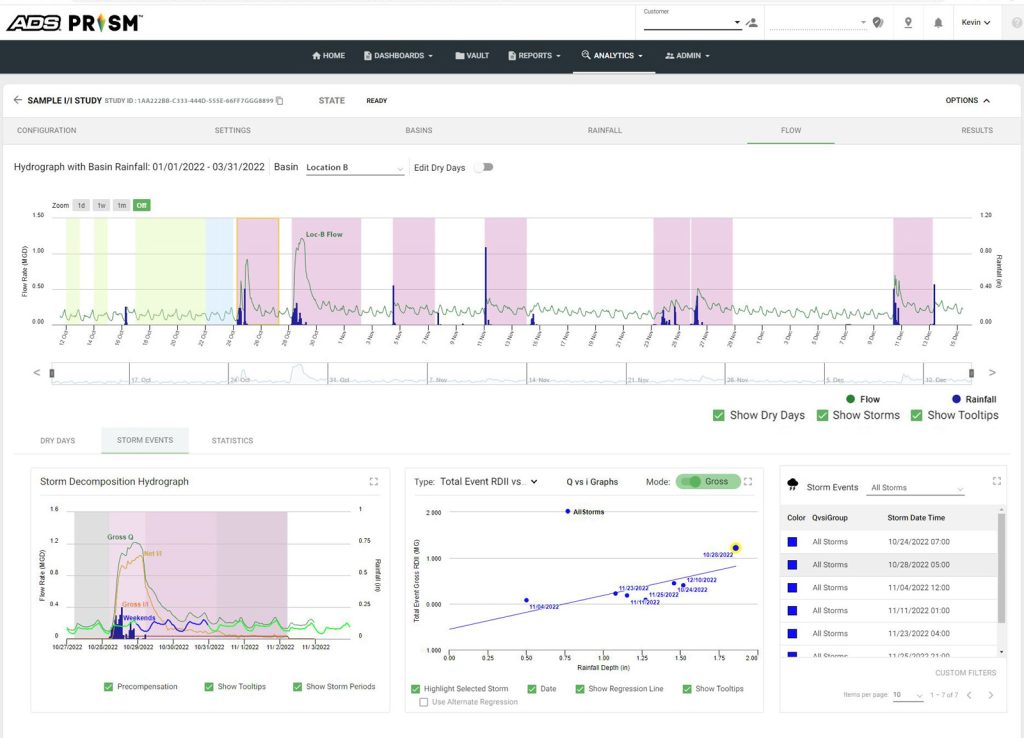 SLiiCER automatically calculates wet and dry weather sewer flow parameters of interest, including both gross and net parameters, associated with rainfall events of interest, and allows the user to visualize them through a variety of graphical displays. Built in visualization tools include Dry Day Hydrographs, Storm Event Hydrographs, and Q-vs-i graphs, along with the ability to control settings and vary assumptions.

Designed with flexibility to serve the needs of both municipal engineers and consulting engineers, the new SLiiCER and PRISM integration can provide both quick answers for real-time sewer management and more detailed answers for rigorous analysis and planning studies.
Depending on your specific requirements and whether you are currently using SLiiCER and/or PRISM, the ADS engineering team can quickly map out an optimal path forward.  Or if you are starting from scratch, the combination of SLiiCER and PRISM can quickly open up a whole new range of insights into your collection system.
Fill out the form below to request a consultation and demo of SLiiCER with PRISM.new upcoming