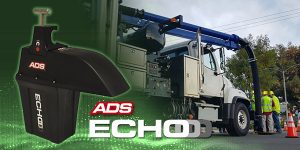 Optimize the Cleaning Process
Thousands of devices are now driving cleaning based on actual site conditions. Along with adding 24/7 SSO protection, if you're challenged with too much to do and not enough time or not having adequate personnel resources, then this solution can offer relief.
ADS® ECHO™ is unique. Its machine learning detects and predicts blockage formation, up to weeks in advance. For fast-forming blockages, it provides five water level alarms. Moreover, ECHO fixed, stabilized mounting means no false alarms typical of ultrasonic sensors suspended on cables.
Now and for a limited time, the "Build your own ADS ECHO system" bundle is specially priced at $2,995 each in quantities of five or more. Apply discount code ECHO-May2023 on the ADS Online Store and make sure your order includes a minimum of five units.
Learn more and contact us today.