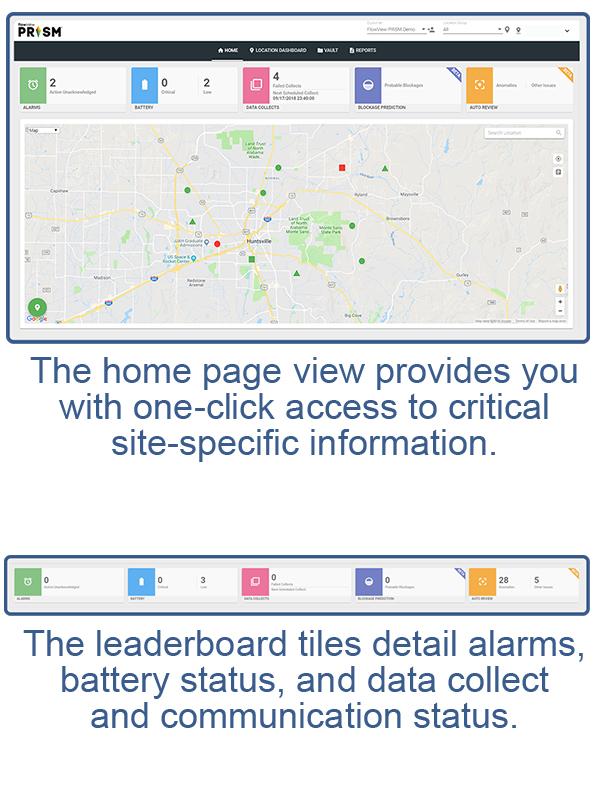 Critical Insight for Collection System Management
FlowView PRISM is a web application that puts critical data at your fingertips to support management, engineering, and operational decisions within your wastewater collection system.FlowView PRISM connects clients to an ADS flow monitoring network, delivering near real-time operational intelligence on the status of flow activity throughout the wastewater collection system. It is the fastest and easiest way to visualize the condition of your collection system monitored by ADS sensing technology. This state-of-the-art software provides knowledge and early detection of potential problems. It offers dynamic analytical functions for fueling discoveries that will lead to enhanced management of the sewer collection system. FlowView PRISM performs data collection, storage, alarm management, and information presentation functions.
Now, users have the ability to proactively manage their collection system by receiving instant knowledge of current and historical flow conditions. FlowView PRISM automatically notifies the customer of unusual flow conditions and provides powerful trending tools that instantly reduce large amounts of flow monitoring data into useful reporting segments. Data sharing between owners and consultants is simplified through the data vault. FlowView PRISM provides users with the necessary data to model their collection system, monitor treatment plants, and plan capital projects.

Identify and Resolve Emerging Concerns Before Problems Arise
FlowView PRISM represents a great leap forward in Cloud-computing and database management capabilities, propelling your data into the world of machine learning, artificial intelligence, and predictive analytics. We listened to our customers and have built a revolutionary new software product that provides an advanced platform for rapid growth in data management, viewing, analytics, and data science.
FlowView PRISM enables the user to identify and resolve emerging concerns before problems arise and provides easy-to-use dashboards and graphical tools to status system performance and track emerging threats. See flow and depth data at meter locations throughout the collection system and determine if sewer lines are flowing as designed and to capacity, or whether hydraulic problems, such as blockages, exist. The system alerts staff members to wet and dry conditions in the sewer system, analyzes trends, and has the ability to work with flow monitors from multiple vendors.
Leaderboard Tiles Place Operational Intelligence at the User's Fingertips
FlowView PRISM's alarm management is designed to inform clients about the occurrence of rain events, flow and level performance abnormalities, and data anomalies at monitoring locations. FlowView PRISM enables battery status monitoring and management to ensure the seamless operation of flow, level, and rainfall monitors. Battery voltages are classified as Good, Low, or Critical and are sorted by those that require the most urgent attention. Track monitor collect/communication status to identify any data transmission problems that may arise. Visualize recent data transmission status for the entire monitor network and drill down to the communication status of individual monitors.
Learn More About FlowView PRISM