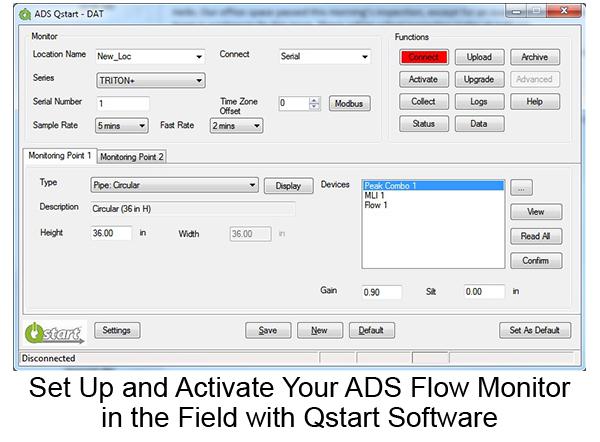 Configure ADS Flow Monitors With This User-Friendly Software
Qstart is a simple, user-friendly software utility that allows field crews to quickly setup and activate ADS flow monitors. This utility saves time and money in the field and allows users to setup meters in minutes without Profile. Qstart also enables the user to collect and review the meter's depth and velocity data in hydrograph and tabular views simultaneously. All data collected in Qstart can be viewed in the field and exported in CSV format for import into the desktop software of the user's choice.
Qstart can be downloaded from the ADS Software Downloads web page.
View the Demo to Learn More...
Qstart enables you to collect and review monitor data in hydrograph and tabular views simultaneously. An end-of-day archive feature "zips-up" the modified data files and stores them in folders for easy import into other software packages.

For more information on Qstart, reference the information below: