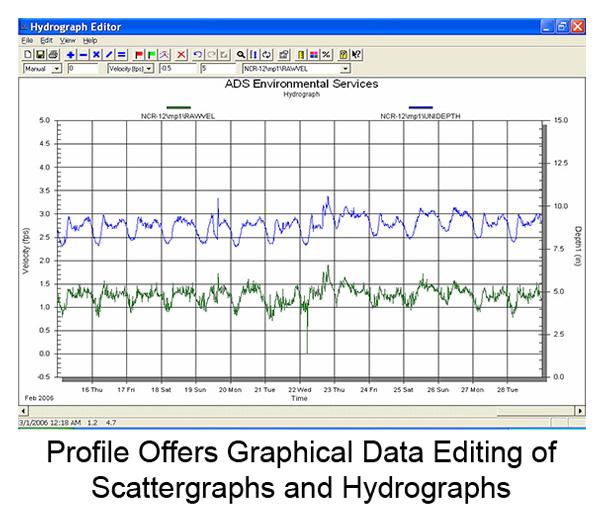 Intelligent Data Management With the Best Analytical Tools in the Industry
Profile is an intuitive and powerful desktop software tool used for collecting, diagnosing and analyzing flow and rainfall data. Profile is serious software for serious users yet it is easy to use and can operate for a single monitor, or monitor networks of any size without limitations. From basic flow data to more complex hydraulic analysis, Profile is intuitive software that saves time and improves data quality by compiling project data into one location for analysis and reporting. Profile saves time and improves data quality by compiling project data in one location and providing advanced editing tools.
Integrating Collection System Data From Flow Monitors for Analysis and Reporting
Profile is an intelligent data manager with the best analytical tools in the industry. It incorporates monitoring data from ADS monitors and other flow meters for analysis and reporting.
ADS Flow Monitors
Profile configures, collects, edits, and reports flow data from ADS monitors. It manages and schedules data collects and generates reports. It consolidates monitor configuration, activation, data management, and flow analysis software into a powerful desktop package. Communications can be handled both remotely and on-site. Tasks can be scheduled during non-business hours and idle time to improve data collecting and reporting efficiency.
Other Flow Monitors
Profile will import data in CSV, Excel, and text formats from most other meters, thereby allowing data from multiple vendors to be incorporated into a single package for analysis and reporting. This functionality enables the user to calculate quantities, utilize hydrographs and scattergraphs for trend analysis and sewer flow evaluations, and schedule reports for all locations. The powerful set of features incorporated into Profile helps users save time by automating processes and consolidating data.