Sun Shield
The sun shield is designed to cover and protect a RainAlert III rainfall monitor and provides a mounting location for a Model TB3, TB4, or TB6 tipping bucket rain gauge. The sun shield is constructed of durable aluminum with powder-coated finish. A tipping bucket rain gauge is then mounted on top of the sun shield, above the RainAlert III rainfall monitor.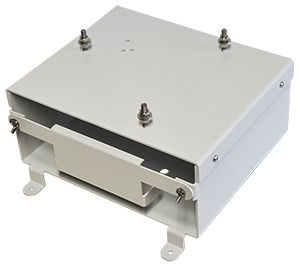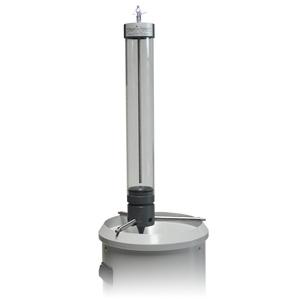 Field Calibration Device
The field calibration device is designed to check the calibration of tipping bucket rain gauges in the field. It is lightweight and portable and is constructed for ease of use. Calibration is checked by filling the device with a preset volume of water, placing it over a tipping bucket rain gauge, and opening a valve. The water empties through a specially-designed nozzle that carefully controls the rate of discharge. A preset volume of water generates an expected number of tips by the tipping bucket. The actual number of tips is compared with the expected number to determine if a tipping bucket rain gauge is properly calibrated or not. One discharge nozzle is provided with the field calibration device, although additional nozzles are available with other discharge rates for more detailed dynamic calibration, if desired.
Bird Guard
A bird guard is available for use at rain gauge locations to deter birds and minimize their droppings and is designed for use with Model TB3, TB4, and TB6 tipping bucket rain gauges. The bird guard is constructed of powder-coated stainless steel and is easily secured to the rim of the tipping bucket rain gauge.