Trusted Solutions for
Blockage Prediction and Overflow Prevention
Blockage Prediction & Overflow Prevention
According to the Environmental Protection Agency (EPA), sewer blockages are a leading cause of sanitary sewer overflows (SSOs) and often result from grease, roots, and debris.  Historically, preventive sewer cleaning has been the preferred approach to prevent SSOs caused by blockages, where all sewers are cleaned periodically in a preventive manner to mitigate emerging blockages, while sewers with recurring problems ("hot spots") are cleaned on a more frequent basis.  While this approach is effective, it is not always efficient.
Aggressive cleaning has consistently demonstrated its effectiveness for reducing SSOs, but it comes at a significant cost. 
It is a labor intensive, unending process requiring trained personnel, dedicated and expensive vehicles and tools, video validation and much more. The focus on both regularized system-wide cleaning and selective-site, "high frequency cleaning", creates conflicting demands on finite maintenance resources trying to balance cleaning routines versus planned projects versus emergencies. Consequently, personnel and support infrastructure is strained.  
Conventional cleaning practices lack continuous real-time feedback. They are schedule-driven with cleaning frequency being based on historical records. To stay ahead of the potential for build-up this method effectively promotes over-cleaning.
The consequence of over-cleaning is wasteful consumption maintenance resources. Less obviously but much more costly is premature pipe degradation. Consistent and prolonged use of high pressure sprays produces pipe wear leading to reduced asset life.  Add to this the mechanically abrasive techniques like root cutters, degradation is exacerbated.
Additionally, with vehicles and personnel sometimes required to work in high traffic locations, there exists heightened risk to municipal workers exposed to these conditions. Moreover, the disruptions to traffic also increase public frustration.
Sanitary Sewer Overflows (SSO) 
occur when raw sewage is realized into waters, causing serious water quality problems, back up into homes, damage to private/public property, threatening public health and safety, all while adding to an already strained resource allocation.  
Wastewater collection systems fall into one of two types: Combined or Sanitary.  With each comes challenges that are specific, but similar, to the other system.  Unlike Combined Sewers, which are designed to collect large volumes of storm waters in addition to sewage and industrial wastewater, Sanitary Sewers are built to collect and transport only domestic, commercial and industrial wastewater for appropriate treatment.  While there are similarities, there are unique approaches that have to be made to both types. 
ADS provides a comprehensive solution for predicting blockages, optimizing sewer cleaning, and preventing overflows.
This enables network operators with the ability to clearly understand the current hydraulics of the sewer system, allowing teams to respond in real time to identify and clear blockages regardless of the weather conditions, alert residents to potential flooding as well as construct models over time to improve network performance. ADS real-time monitoring provides continuous feedback at remote collection system sites; providing actionable insight on exactly when and where sewer cleaning is needed, eliminating exaggerated cleaning practices and reducing frequency. Ongoing, continuous sewer monitoring provides enhanced assurance against SSOs.

ADS has developed blockage PREDICT™ to detect the earliest signs of blockages – allowing sewer cleaning resources to be deployed at the right place at the right time in a proactive manner.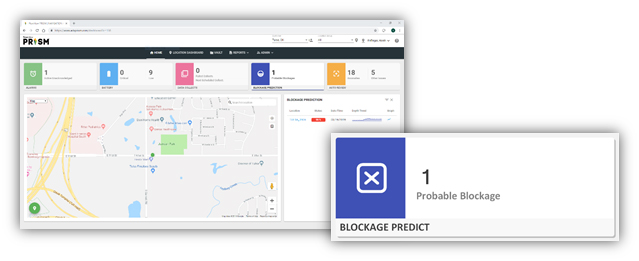 How does blockage PREDICT work?  An ADS ECHO level monitor is installed upstream from a location of interest, measuring sewer flow depth at regular time intervals.  This data is transmitted periodically to the Cloud where a machine learning (ML) algorithm evaluates the data – looking for tell-tale signs of developing blockages.  The results are available in the FlowView PRISM™ web app in an intuitive, easy-to-use format. Blockage PREDICT predicts developing blockages with enough notice to plan a proactive response with the right resources at the right time to prevent an overflow before it occurs.

For SSO mitigation, the ECHO uniquely provides 20 feet of visibility below the unit and up to eight feet above it. The ECHO always knows the water level in a manhole and provides multiple configurable alarms for advanced warning. The ECHO monitors bypass sites providing 24/7 protection against SSOs.
For efficient sewer cleaning, the ECHO enables utilities to employ the latest cleaning practices. Continuous remote monitoring with advanced visibility assures that cleaning is performed only when needed.
ADS Solutions are combined with PRISM to create the comprehensive solution to your challenges.  With over four decades of experience navigating the rigorous regulatory environment through changing needs, ADS is your trusted solution provider.  ADS has a name that is synonymous with cost-effective, safe solutions that bring actionable results.  Find out how to take uncertainty out of your daily routine by contacting us today to learn how ADS can bring our trusted solution to your needs.  
We thrive off Solving Problems
We have a trusted solution ready for you