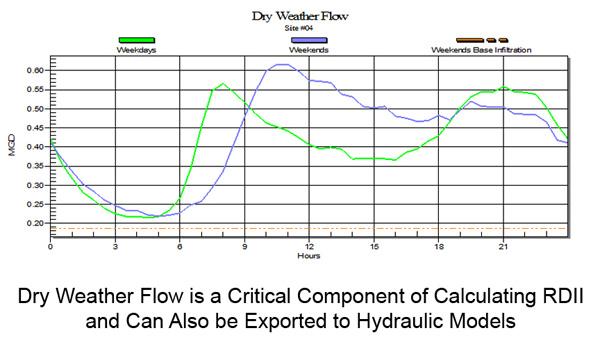 Accurate Flow and Rain Data is Critical to Sewer Modeling
Hydraulic Sewer Modeling is a key component for organizations and communities who need detailed data analysis, future planning, and simulation of their collection system assets. Many of today's top modeling packages have the ability to import and process critical pipe flow and rainfall data. Having accurate flow and rain data is critical towards the creating and development of these hydraulic models. ADS has provided high accuracy data for many of the top modeling projects in the US for over 41 years. Our outstanding attention to detail, accuracy, and performance makes ADS the perfect match when hydraulic sewer and rainfall modeling data is needed.

Whether you are just staring the planning phases of your hydraulic modeling program or if you need accurate flow data to re-calibrate your existing model, ADS can help. Our team of experts can assist in anything from equipment rentals to a complete system study to meet your specific modeling needs. Our experience is grounded in hydraulic modeling studies for many of the top cities in the US.
ADS Equipment, Software, and Services for Sewer Modeling
Depending on your project needs, ADS can provide equipment needed to capture the hydraulic conditions of your collection system and the rainfall associated with each basin or study area. The TRITON+ flow monitor offers the latest technology in flow monitoring and data collection, and features a dual channel sensor option, multiple sensor options, an industry leading battery life, and is intrinsically safe right out of the box. The Rain Alert III wireless rain gauge can compliment your modeling program by capturing highly accurate rainfall data as well as offering alert options via text or email when rainfall intensity exceeds a threshold. Multiple Tipping Bucket options are available to complement the data logging device depending on your accuracy needs.
ADS' Profile Software in an intelligent data software package with a number of analytical tools for the management of Flow Monitoring and Rainfall data. The software is designed to quickly import, analysis, edit and export flow and rain data into multiple formats depending on your modeling needs. The software offers a turnkey data management solution when coupled with ADS equipment. FlowView allows model users to deliver real-time flow activity via a web browser. For modelers, having immediate access to your collection system data when you need it can be critical towards your modeling project. This state of the art system can perform advance diagnostics of your collection system flow and rainfall data and can assist with the advanced management of collection system data. FlowView can also alarm with a number of user-set criteria to further assist with modeling assumptions. Modeling can be complicated when wet weather data and analysis is involved. Sliicer.com can assist with these efforts by offering a complete software package to examine wastewater data in conjunction with rainfall data. Wet weather analysis data can be quickly exported, including rainfall intensities, average dry weather flow data, wet weather storm flow characteristics, and the net and gross inflow and infiltration flows for the basin in study.
With experience in over 8,000 flow monitoring projects, ADS has the trained staff to assist with any level of data collection for your modeling project. From installation to the creation of full wet weather analysis and reporting, ADS has the all of the pieces needed for a successful project: Temporary Flow Metering and Rainfall Studies, Wet Weather Analysis, Model Data Preparation, Rainfall Analysis and Intensity, and RTK Values and Wet Weather Modeling Information.