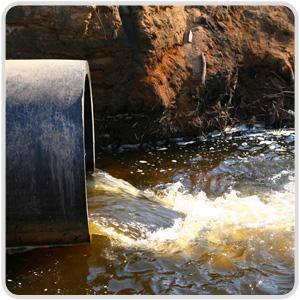 Assistance to Meet the EPA's Nine Minimum Control Requirements
Most combined sewer communities struggle with regulatory and budgetary concerns for necessary collection system flow, rainfall, and wet weather monitoring programs. ADS has developed the most cost-effective, highly efficient, technology-based system for CSO monitoring and reporting. This includes measurement and reporting of overflow duration and quantity for individual events, verifiable with video confirmation.
CSO monitoring is complicated by tidal or receiving water intrusion, as well as overflow events. These create hydraulic complexities that require experience to set up an effective monitoring plan. Data interpretation also can be highly complex, requiring expert hydraulic analysis and comprehensive software tools to report CSO events. ADS has developed a monitoring system incorporating all of these features, including the ability to automate these features on a site-by-site basis.
ADS CSO Compliance Monitoring System
ADS offers the latest flow monitoring technology, unparalleled CSO field experience, and the most comprehensive data management tools for a one-stop compliance monitoring solution.
From flow monitors, software, field services, and data processing to Web-based information and statistical reporting, ADS products will deliver the right information at an affordable cost. When municipalities need to know about collection system flows, they choose ADS Environmental Services to monitor performance. They rely on ADS for robust, accurate, and affordable measurement, the kind of hydraulic analysis necessary to support project and financial objectives.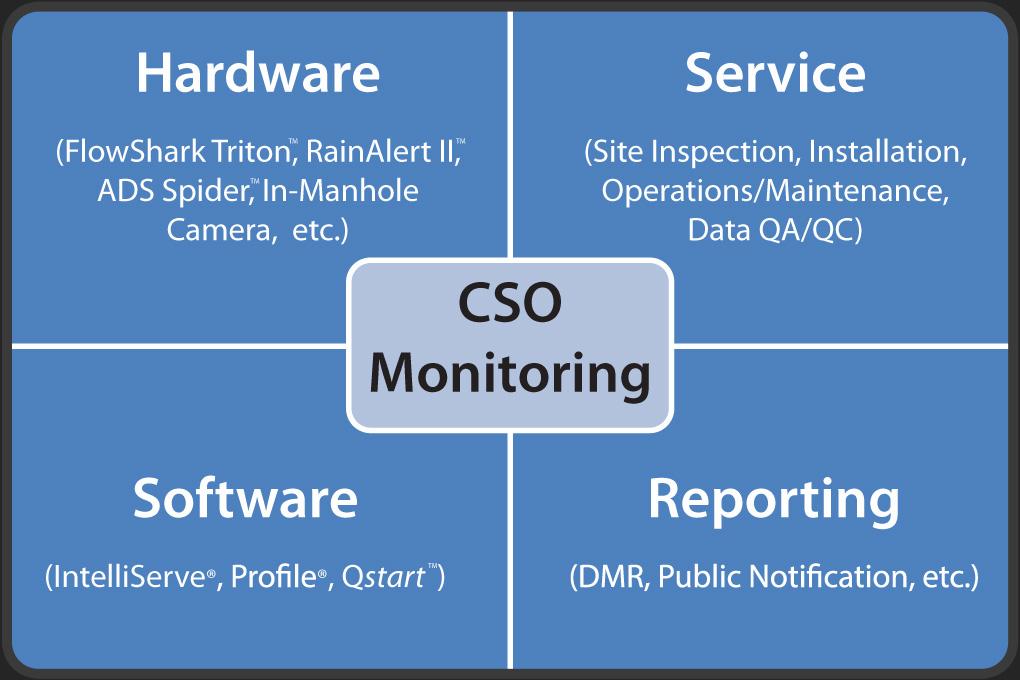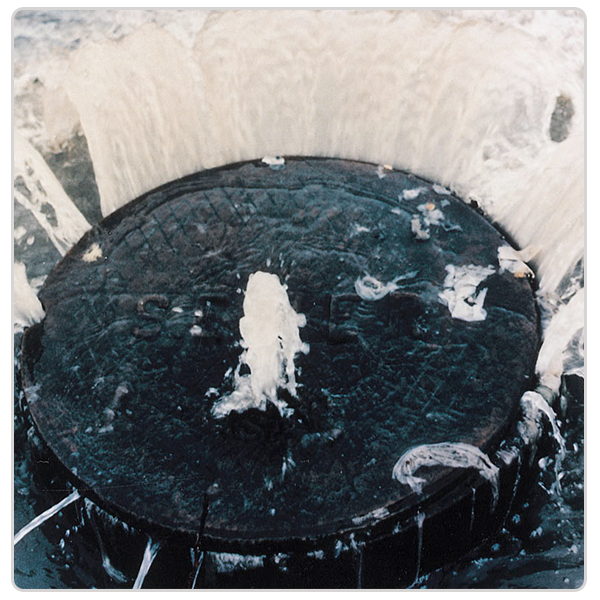 Uncover RDII in Sanitary Sewer Systems With ADS Flow Monitoring
Many communities struggle with regulatory and budgetary concerns with eliminating both dry and wet weather Sanitary Sewer Overflows (SSO). SSOs are caused by a number of different conditions in the wastewater collection system. Rainfall-derived infiltration and inflow (RDII) is the increased portion of water flow in a sanitary sewer system that occurs during and after a rainfall or snow melt event. RDII has long been recognized as a source of operating problems in sanitary sewer systems. RDII is the main cause of sanitary sewer overflows (SSOs) to household basements, streets, or nearby receiving waters. The extent of infiltration also correlates with the condition of aging infrastructure. Excessive RDII can also cause serious operating problems at wastewater treatment facilities.

RDII is often a major contributor as are conditions that reduce the system conveyance capacity, such as roots, grease, debris and partial or total collapse of the pipes. These causes are often a symptom of years of neglect the underground infrastructure and often result in Consent Orders (CO)/Consent Decrees (CD) from USEPA or state agencies. There is a need to develop methodologies and computer tools to assist communities in developing an optimal capital improvement program, while providing flexibility for future improvements. A comprehensive flow monitoring program is the most cost-effective first step for communities to assess the severity of the problems, help them manage or avoid enforcement and provide accurate data, alarming and reporting to direct CMOM activities.
Monitoring Sanitary Sewer Systems for Over 41 Years
For over four decades, ADS has been the industry leader in the development of cost-effective flow and rainfall monitoring technology, data analysis software, and field service solutions for collection system evaluation. ADS has helped our clients evaluate over 5 billion linear feet of pipe, calibrate hydraulic models, and direct thousands of Sewer System Evaluation Surveys (SSES). Whether you require only equipment and training or a comprehensive turnkey monitoring program, ADS has the tools and capabilities to help you mitigate I/I identify capacity robbing conditions to help communities reduce and eliminate SSOs.

For collection system administrators interested in a accessing the latest flow performance information, FlowView is a web-accessible, real-time software alternative featuring real-time alarms to alert operators to abnormal conditions. This Web-based software provides customized overflow calculations based on sensor configuration and system response to wet weather. FlowView's alarms are designed for warning operators of impending SSO or CSO flow anomalies, providing an early warning mechanism for proactive maintenance.