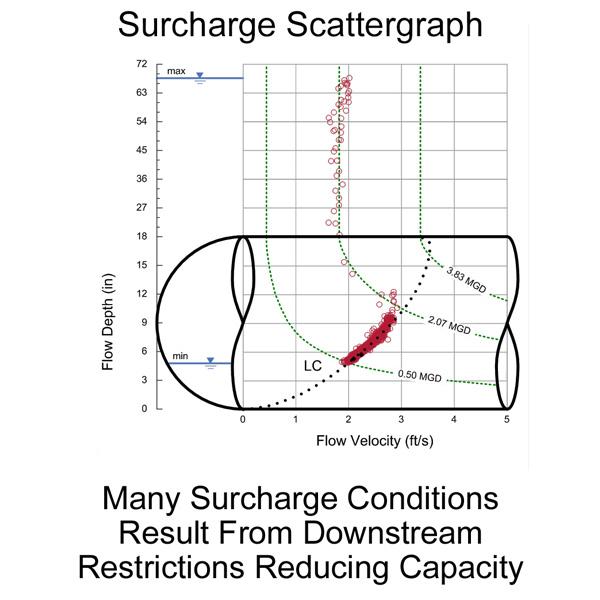 ADS Can Assist in Uncovering the Functional Capacity of Your Collection System
Collection system capacity is of paramount importance to municipalities. Increasing population growth, peak wet weather infiltration/inflow, and pipeline deterioration all affect the ability of the collection system to properly transport wastewater flow. Inadequate capacity results in Sanitary Sewer Overflows (SSOs) across the country with subsequent Federal and State regulatory actions.
The importance of system capacity has been demonstrated in CMOM (Capacity, Management, Operation and Maintenance) regulations promulgated by EPA. Under the CMOM program each municipality must evaluate system capacity and develop an assessment of needs that ensure adequate capacity is provided now and into the future. Flow monitoring at strategic locations within the collection system will document current capacity utilized and identify potential bottlenecks or restrictions that reduce system capacity.
Proper interpretation of flow data can identify areas where line capacity has been reduced due to debris, roots, broken pipe or other hydraulic restrictions. In many cases we find SSOs are caused by inadequate capacity resulting from hydraulic bottlenecks that can be easily rectified. Obtaining and interpreting actual hydraulic data will provide the information necessary to address the assessment of collection system capacity.
Improve Collection System Performance: Reduce Inflow and Infiltration
Inflow/infiltration (I/I) is a parasite that robs the collection system of capacity. It is also an indicator of the condition of the sewer system - high inflow/infiltration is associated with system deterioration. Business decisions involving I/I reduction projects are critical and can impact project costs significantly. I/I reduction is complex and involves risks that must be well managed to influence successful I/I reduction and improve system performance. Field surveying for defects, engineering design, construction and rehabilitation can result in unnecessary work and needless capital expense if I/I reduction opportunities are not accurately identified. By using inflow/infiltration as an indicator, the public works staff can evaluate its rehabilitation program. It is significantly less expensive to rehabilitate a sewer system than to replace it.
Extending the life of the sewer system assets is the least cost alternative to replacement. Without a rehabilitation program that will locate and identify repairs, the staff will be faced with increased "emergency repairs" and increasing SSOs. Analysis of inflow/infiltration will identify and prioritize those areas of the collection system that are in need of rehabilitation. This ensures the limited resources of the municipality are being targeted at the high priority assets.
ADS specializes in directing customers to I/I reduction opportunities that lower project costs. We offer the industry's most comprehensive programs for determining flow performance during wet weather using accurate, durable, and versatile flow monitors.