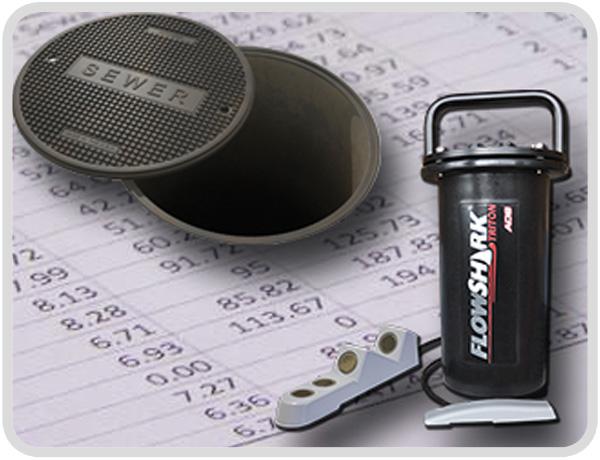 The Importance of Accounting, Usage, and Billing Information for Sewer Networks
Wastewater agencies that treat influent from neighboring communities usually provide these contributory agencies with some sort of invoice or bill to help offset the costs of the transport and treatment of their flow. Most of these treating agencies have set their rates on a per capita of fixed monthly flow basis.

As the infrastructure decays, treating agencies are starting to realize that available transport and treatment capacity is being overrun by Inflow and Infiltration (I/I) coming from the contributing agencies' flows. In order to encourage removal of the I/I and encourage water conservation, forward thinking treating agencies have started using flow monitors to actually measure and bill based on actual flows put into their system. They have also structured the treatment agreements with multiple flow dependent fee rates that rapidly increase as flows increase. For example, a contributing agency's flow has a standard fee rate as long as average daily flow stays below an agreed average gallon per day amount. Flows greater than those amounts are billed with a higher fee reflective of the increased cost of treatment and maintaining the extra capacity needed to handle the increased flows during the receiving utility's peak flow periods.

Some agencies have built in terms into the billing agreements where if average daily flow levels are exceed by a certain percentage more than an agreed upon number of times a year, the contributing agency has to submit and execute a plan to mitigate I/I in their system or face additional penalties, fees or a renegotiation of the agreement. This is an important addition because if I/I if left unchecked can cause flows that can surpass the treating agency's ability to transport and treat and still operate under their state and federal permitted levels.
Choose ADS for Accurate and Consistent Flow Monitoring of Billing Networks
ADS offers the latest wireless flow monitoring technology that coupled with Internet based IntelliServe data viewing and alarming can notify the receiving and contributing utilities when the average normal flows exceed the agreed upon limits and allow them access to view the data in real time. Flow based alarms can be configured to alert both utilities of increased flows as they happen. This allows contributing utilities to look for and address the I/I when it happens.

ADS has manufactured innovative and dependable gravity sewer flow monitoring and rain gauging equipment for over 41 years – it is our core business. ADS also provides turnkey ISO verified Field Services to keep the equipment operating at optimum and calibrated levels as well as Data Processing and Analysis to generate accurate third party certified billing reports.