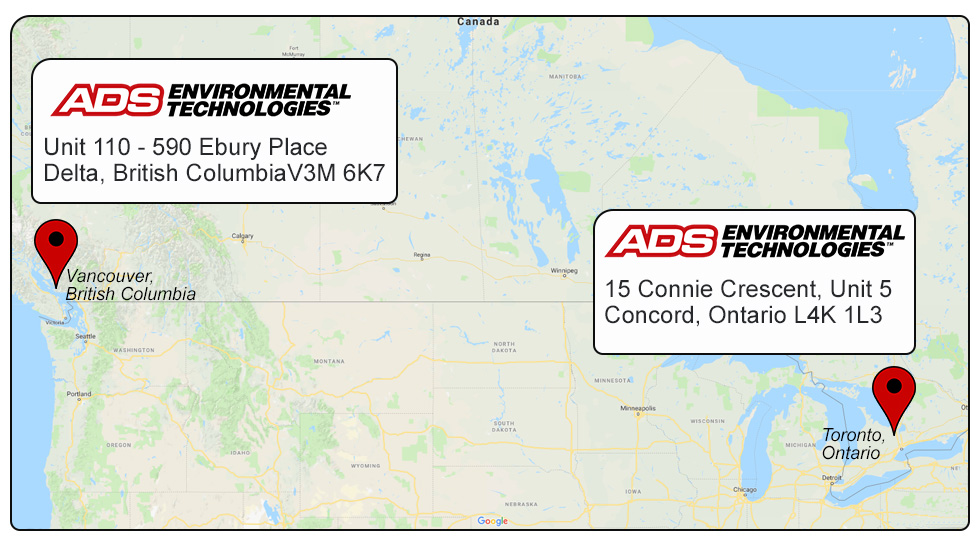 ADS Environmental Technologies, Inc., a wholly-owned subsidiary of ADS LLC® and the leader in providing comprehensive solutions in full-service sewer flow, level, and rainfall monitoring and data management, announces the opening of 2 new Canadian offices in Vancouver and Toronto, Canada. At ADS we always are striving to better serve our customers. The expansion of the company to Vancouver and Toronto will allow ADS to more efficiently service our existing wastewater customers and become even more responsive as our business continues to grow. The opening of these new offices demonstrates our commitment to our customers, while further establishing our presence in these metropolitan Canadian cities. ADS is also committed to serving our communities, and will expand its employee base by hiring many local, highly-skilled collection system professionals. 
Hal Kimbrough, General Manager of ADS LLC, states "ADS has worked with wastewater utilities in Metro Vancouver for many years out of our Seattle, Washington office. The opening of a permanent office in the area is a big step for us.  We are committed to investment in British Columbia built around a talented group of local employees who have a wealth of experience with our company. Vancouver is just one of two new offices to be opened by ADS Environmental Technologies, a newly registered Canadian corporation. We are also very excited to open our office in the Greater Toronto area, staffed by local residents. ADS has been serving wastewater utilities in the area for many years through local partnerships and support from our US-based locations. This move is our next level of commitment to Ontario. We are very fortunate to have Alissa Houston to join us as the leader of our Toronto team.  Her experience in the industry and knowledge of the area will make her a real asset to our local customer. Our move to these prominent Canadian cities will draw us closer to the communities we serve and allow us to be more responsive to local needs."
Download the ADS Environmental Technologies, Inc. Equipment and Services Agreement
About ADS LLC
ADS LLC is a leading technology and service provider and a reliable source of knowledge to the global wastewater collection system industry. Monitors manufactured, installed, and maintained by ADS measure over 19 billion liters of flow daily across the globe. For over 43 years ADS has delivered value to its customers by providing industry-leading solutions for flow monitoring, level monitoring, rainfall monitoring, data analysis, reporting, and field services. These customers rely on Underground Intelligence® from ADS to manage planning and rehabilitation, satellite community billing, regulatory compliance, O&M, and model calibration. ADS LLC is a business unit of IDEX Corporation.